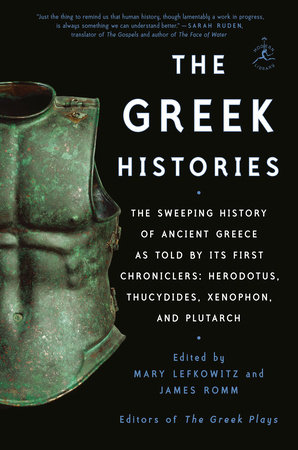 Read an Excerpt
The Greek Histories
The Sweeping History of Ancient Greece as Told by Its First Chroniclers: Herodotus, Thucydides, Xenophon, and Plutarch
Edited by Mary Lefkowitz and James Romm
Paperback
Audiobook Download
Hardcover
Ebook
About the Book
From the leading scholars behind The Greek Plays, a collection of the best translations of the foremost Greek historians, presenting a sweeping history of ancient Greece as recorded by its first chroniclers

"Just the thing to remind us that human history, though lamentably a work in progress, is always something we can understand better."—Sarah Ruden, translator of The Gospels and author of The Face of Water

The historians of ancient Greece were pioneers of a new literary craft; their work stands among the world's most enduring and important legacies and forms the foundation of a major modern discipline. This highly readable edition includes new and newly revised translations of selections from Herodotus—often called the "father of history"—Thucydides, Xenophon, and Plutarch, the four greatest Greek innovators of historical narrative. Here the reader will find their most important, and most widely taught, passages collected in a single volume. The excerpts chart the landmark events of ancient Greece and provide a comprehensive account of the entire classical Greek age. 

From the start the Greek historians demonstrated how broad and varied historical writing could be and brought their craft beyond a mere chronicle of past events. This volume explores each author's interest in religion, leadership, character, and the lessons of war. How, for instance, should readers interpret Herodotus' inclusion of speeches and dialogues, dreams, and oracles as part of the "factual" record? What did Thucydides understand about human nature that (as he said) stays constant throughout time? How did Plutarch frame historical biography as a means of depicting the moral qualities of great men? 

Complete with introductions to the works of each historian, footnotes providing context and explaining obscurities, maps, and an appendix on the Greek conduct of war, this volume is an invaluable resource for students and passionate readers of history alike.
Read more
Close