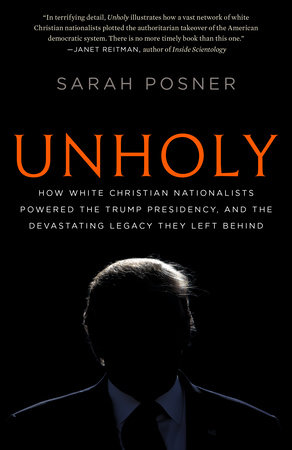 Read an Excerpt
Unholy
How White Christian Nationalists Powered the Trump Presidency, and the Devastating Legacy They Left Behind
Sarah Posner
Paperback
Audiobook Download
May 26, 2020 | ISBN 9780593154779
Ebook
About the Book
"In terrifying detail, Unholy illustrates how a vast network of white Christian nationalists plotted the authoritarian takeover of the American democratic system. There is no more timely book than this one."—Janet Reitman, author of Inside Scientology

Why did so many evangelicals turn out to vote for Donald Trump, a serial philanderer with questionable conservative credentials who seems to defy Christian values with his every utterance? To a reporter like Sarah Posner, who has been covering the religious right for decades, the answer turns out to be far more intuitive than one might think.

In this taut inquiry, Posner digs deep into the radical history of the religious right to reveal how issues of race and xenophobia have always been at the movement's core, and how religion often cloaked anxieties about perceived threats to a white, Christian America. Fueled by an antidemocratic impulse, and united by this narrative of reverse victimization, the religious right and the alt-right support a common agenda–and are actively using the erosion of democratic norms to roll back civil rights advances, stock the judiciary with hard-right judges, defang and deregulate federal agencies, and undermine the credibility of the free press. Increasingly, this formidable bloc is also forging ties with European far right groups, giving momentum to a truly global movement.

Revelatory and engrossing, Unholy offers a deeper understanding of the ideological underpinnings and forces influencing the course of Republican politics. This is a book that must be read by anyone who cares about the future of American democracy.
Read more
Close