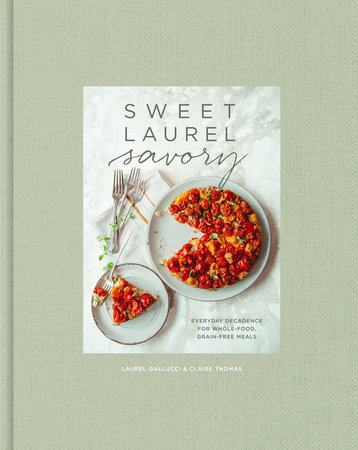 Read an Excerpt
Sweet Laurel Savory
Everyday Decadence for Whole-Food, Grain-Free Meals: A Cookbook
Laurel Gallucci and Claire Thomas
About the Book
85 recipes for breakfast, lunch, dinner, and snack time from the Los Angeles bakery setting the standard for healthful, grain-free cooking

"For years Sweet Laurel has been my go-to for desserts and I'm yet to try a recipe I didn't love. I can't wait to incorporate the recipes from Sweet Laurel Savory into our everyday meals."—Lauren Conrad 

Beloved for stunning and clean-yet-decadent cakes and confections, the grain-free brand Sweet Laurel offers its most delightful savory provisions, from pantry staples and breads to pastas, pizzas, and feasts. The recipes are gluten-free and refined sugar–free with keto, paleo, dairy-free, and vegan options, as well. Whether you're working toward a more wholesome way of eating and living or working around food allergies, Sweet Laurel Savory brings satisfying simplicity to breakfast, lunch, dinner, and beyond.

With Sweet Laurel's uncomplicated whole-food approach, the recipes here are as doable as they are flavorful and healthy. Simple and readily available core ingredients build the foundation for indulgent favorites and craveable staples. With options like Sicilian Pan Pizza, Epic Bagel Spread, The Ultimate Sweet Laurel Burger with Sweet Potato Fries, and Zucchini Lattice Tart, you'll never feel restricted.
Read more
Close