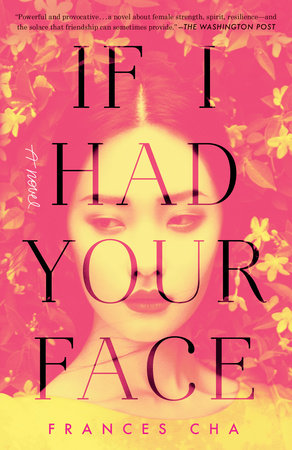 Read an Excerpt
If I Had Your Face
A Novel
Frances Cha
Paperback
Ebook
Audiobook Download
April 21, 2020 | ISBN 9780593167373
About the Book
A riveting debut novel set in contemporary Seoul, Korea, about four young women making their way in a world defined by impossible standards of beauty, after-hours room salons catering to wealthy men, ruthless social hierarchies, and K-pop mania

"Powerful and provocative . . . a novel about female strength, spirit, resilience—and the solace that friendship can sometimes provide."—The Washington Post

ONE OF THE BEST BOOKS OF THE YEAR: Time, NPR, Esquire, Bustle, BBC, New York Post, InStyle

Kyuri is an achingly beautiful woman with a hard-won job at a Seoul "room salon," an exclusive underground bar where she entertains businessmen while they drink. Though she prides herself on her cold, clear-eyed approach to life, an impulsive mistake threatens her livelihood.
 
Kyuri's roommate, Miho, is a talented artist who grew up in an orphanage but won a scholarship to study art in New York. Returning to Korea after college, she finds herself in a precarious relationship with the heir to one of the country's biggest conglomerates.
 
Down the hall in their building lives Ara, a hairstylist whose two preoccupations sustain her: an obsession with a boy-band pop star, and a best friend who is saving up for the extreme plastic surgery that she hopes will change her life.
 
And Wonna, one floor below, is a newlywed trying to have a baby that she and her husband have no idea how they can afford to raise in Korea's brutal economy.
 
Together, their stories tell a gripping tale at once unfamiliar and unmistakably universal, in which their tentative friendships may turn out to be the thing that ultimately saves them.
Read more
Close