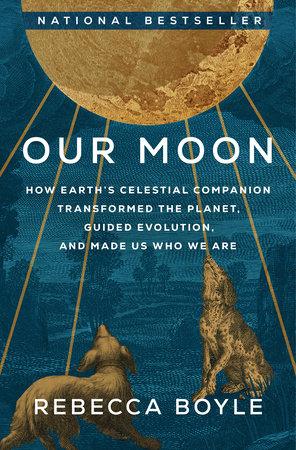 Read an Excerpt
Our Moon
How Earth's Celestial Companion Transformed the Planet, Guided Evolution, and Made Us Who We Are
Rebecca Boyle
About the Book
"A riveting feat of science writing that recasts that most familiar of celestial objects into something eerily extraordinary, pivotal to our history, and awesome in the original sense of the word."—Ed Yong, New York Times bestselling author of An Immense World

Many of us know that the Moon pulls on our oceans, driving the tides, but did you know that it smells like gunpowder? Or that it was essential to the development of science and religion? Acclaimed journalist Rebecca Boyle takes readers on a dazzling tour to reveal the intimate role that our 4.51-billion-year-old companion has played in our biological and cultural evolution. 

Our Moon's gravity stabilized Earth's orbit—and its climate. It drew nutrients to the surface of the primordial ocean, where they fostered the evolution of complex life. The Moon continues to influence animal migration and reproduction, plants' movements, and, possibly, the flow of the very blood in our veins. 

While the Sun helped prehistoric hunters and gatherers mark daily time, early civilizations used the phases of the Moon to count months and years, allowing them to plan farther ahead. Mesopotamian priests recorded the Moon's position in order to make predictions, and, in the process, created the earliest known empirical, scientific observations. In Our Moon, Boyle introduces us to ancient astronomers and major figures of the scientific revolution, including Johannes Kepler and his influential lunar science fiction.

Our relationship to the Moon changed when Apollo astronauts landed on it in 1969, and it's about to change again. As governments and billionaires aim to turn a profit from its resources, Rebecca Boyle shows us that the Moon belongs to everybody, and nobody at all.
Read more
Close