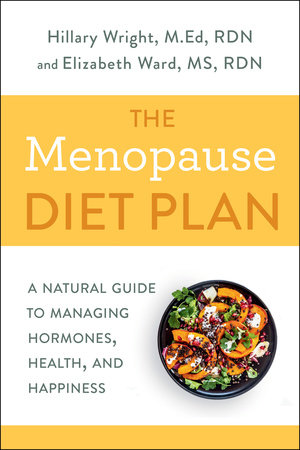 Read an Excerpt
The Menopause Diet Plan
A Natural Guide to Managing Hormones, Health, and Happiness
Hillary Wright, MEd, RDN, and Elizabeth Ward, MS, RDN
Paperback
Ebook
Audiobook Download
September 8, 2020 | ISBN 9780593213391
About the Book
Minimize the symptoms of perimenopause and menopause naturally through a sustainable, enjoyable eating plan, physical activity, and other beneficial lifestyle habits

"My friends and well-respected colleagues have written The Menopause Diet Plan to help you feel healthier, happier, and more confident during this change in your life."—Maye Musk, MS, RDN, and author of A Woman Makes a Plan

Menopause is uncharted territory for women, and it can be difficult to know how to ease the effects of hormonal changes that can often start in your 40s. With honesty and optimism, The Menopause Diet Plan encourages a positive, fad-free approach to managing your physical and emotional health during perimenopause and menopause. It highlights current scientific knowledge about the best diet and lifestyle choices to manage your weight; keep your heart, brain, and bones healthy; and decrease the risk for cancer and other chronic conditions. It also offers natural strategies to help diminish hot flashes, manage sleep difficulties and mood swings, improve energy, and more.

The Menopause Diet Plan takes a unique approach to eating before, during, and after menopause. Registered dietitians Hillary Wright and Elizabeth Ward provide a customizable, plant-based eating plan that is rich in protein, fiber, and other beneficial nutrients, moderate in carbohydrates, and low in saturated fat, sodium, and added sugars. Balancing evidence-based advice with real-life circumstances and personal experience, it combines the best of the world's healthiest diets with the latest nutrition research for women in the menopause transition. Recipes such as Peanut Butter Smoothie, Chicken Italiano, and Chocolate Oatmeal Energy Balls make it easier to eat delicious, satisfying foods that nourish your body.

With a comprehensive approach to better health, The Menopause Diet Plan helps women take charge of their well-being and live life to the fullest.
Read more
Close