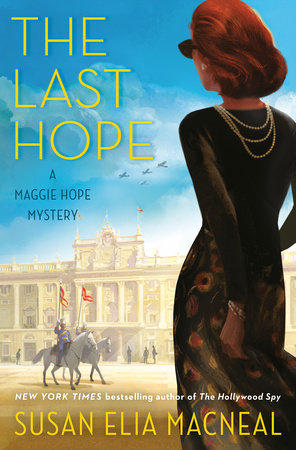 The Last Hope
A Maggie Hope Mystery
Susan Elia MacNeal
About the Book
All will be revealed in the no-holds-barred finale of the New York Times bestselling and Edgar Award-nominated Maggie Hope series as the intrepid spy teams up with fashion designer—and possible double agent—Coco Chanel to bring down the physicist behind Nazi Germany's nuclear program.

Maggie Hope has come a long way since she was Mr. Churchill's secretary. In the face of tremendous danger, she's learned espionage, sabotage, and reconnaissance. But things are different now that she has so much to lose, including the possibility of a family with John Sterling, the man who's long held her heart.

British Intelligence has ordered Maggie to assassinate Werner Heisenberg, the physicist who may deliver a world-ending fission bomb for Germany: she's shaken by the assignment. An assassination is unlike anything she's ever done. How can the Allies even be sure Nazi Germany has a bomb? Determined to gather more information, Maggie travels to Madrid, where Heisenberg is visiting for a lecture.

At the same time, couturier Coco Chanel has requested a meeting with the undercover agent. Chanel, a spy in her own right, with ambiguous loyalties, is meeting with the British Ambassador in Madrid—and has requested Maggie join them. And Chanel provides the perfect cover for Maggie's trip to Spain. The two play cat and mouse as Maggie tries to get a better understanding of Heisenberg. But the most shocking curveball is from the most intimate player: Maggie's own mother has kept a hand in the war—and has secrets of her own to share.

Maggie desperately wants to find her "happily-ever-after," but as the war reaches a fever pitch, the stakes keep rising. Now, more than ever, the choices she makes will reverberate around the globe, touching everyone she loves—with fateful implications for the future of the free world.
Read more
Close