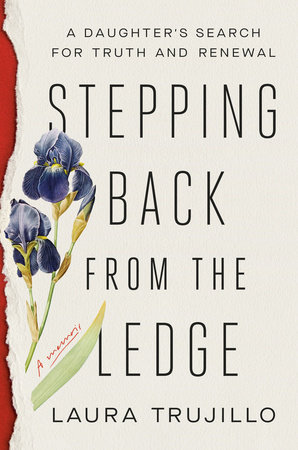 Read an Excerpt
Stepping Back from the Ledge
A Daughter's Search for Truth and Renewal
Laura Trujillo
About the Book
In this "seismically moving memoir" (The New York Times Book Review, Editors' Choice), one woman asks a seemingly impossible question in the aftermath of her mother's suicide: How do you mourn a loved one as you repair the injuries they inflicted?
 
"Laura Trujillo resurfaces from the dark 'sub-basement' of despair with assurances for us all: There is hope. There is healing. Always, there is love. This book will save lives."—Connie Schultz, author of The Daughters of Erietown

ONE OF THE BEST BOOKS OF THE YEAR: The New Yorker

Laura Trujillo had been close to her mother for most of her adult life, raising her four children within a few miles of their beloved grandmother's Phoenix home. But just three months after moving her young family to Cincinnati for a new job, Laura receives shocking news: Her mother had taken her own life—by jumping off a ledge into the Grand Canyon, a place Laura knew her mother had always loved. 

Laura and her mother had shared a profound and special bond, yet each had also kept from the other the deepest truths about their lives. As an adult, Laura finally broke her silence about the sexual abuse she had suffered as a teenager at the hands of her stepfather—a secret Laura had buried to protect her mother. After her mother's death, Laura embarks on an emotional odyssey, searching for clues that could explain the depression, intergenerational trauma, and shared heartbreaks in her family. When she returns to the Grand Canyon, it becomes an oasis that nurtures Laura's search for redemption and peace. As Laura wrestles with her feelings, she forges a new path forward. 

Moving and intimate, powerfully told, Stepping Back from the Ledge is a remarkable exploration of the bond between a mother and daughter, and of the hope that can come from facing the truth.
Read more
Close