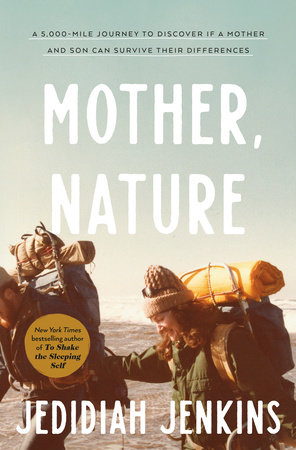 Read an Excerpt
Mother, Nature
A 5,000-Mile Journey to Discover if a Mother and Son Can Survive Their Differences
Jedidiah Jenkins
About the Book
NATIONAL BESTSELLER • From the author of To Shake the Sleeping Self . . .

"Exquisitely written and completely compelling . . . As Jedidiah Jenkins traces a 5,000-mile route with his wildly entertaining mother, Barb, he begins to untangle the live wires of a parent-child bond and to wrestle with a love that hurts."—Suleika Jaouad, author of Between Two Kingdoms
 
When his mother, Barbara, turns seventy, Jedidiah Jenkins is reminded of a sobering truth: Our parents won't live forever. For years, he and Barbara have talked about taking a trip together, just the two of them. They disagree about politics, about God, about the project of society—disagreements that hurt. But they love thrift stores, they love eating at diners, they love true crime, and they love each other. Jedidiah wants to step into Barbara's world and get to know her in a way that occasional visits haven't allowed.
 
They land on an idea: to retrace the thousands of miles Barbara trekked with Jedidiah's father, travel writer Peter Jenkins, as part of the Walk Across America book trilogy that became a sensation in the 1970s. Beginning in New Orleans, they set off for the Oregon coast, listening to podcasts about outlaws and cult leaders—the only media they can agree on—while reliving the journey that changed Barbara's life. Jedidiah discovers who Barbara was as a thirty-year-old writer walking across America and who she is now, as a parent who loves her son yet holds on to a version of faith that sees his sexuality as a sin.
 
Along the way, he peels back the layers of questions millions are asking today: How do we stay in relationship when it hurts? When do boundaries turn into separation? When do we stand up for ourselves, and when do we let it go?
 
Tender, smart, and profound, Mother, Nature is a story of a remarkable mother-son bond and a moving meditation on the complexities of love.
Read more
Close