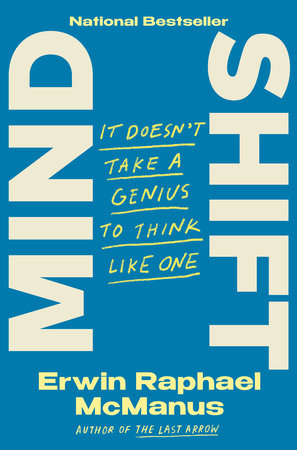 Read an Excerpt
Mind Shift
It Doesn't Take a Genius to Think Like One
Erwin Raphael McManus
About the Book
NATIONAL BESTSELLER • Mental toughness, mental clarity, and mental health all have one thing in common: The journey begins in your mind. In this radical guide, the award-winning author of The Last Arrow illuminates a surprising path toward personal fulfillment and optimal performance.

"Erwin McManus is the most brilliant thinker I've ever met."—fourteen-time bestselling author Jon Gordon

Throughout his thirty years of work as a mindset expert and leadership coach, Erwin Raphael McManus has been obsessed with these questions: Why do some people succeed despite having all the odds stacked against them? How do others achieve the unthinkable, only to watch their lives slip away? Are there mental structures for failure and success?

McManus has come to realize that too many of us have "near-life" experiences. We almost pursue our dreams. We almost make the decision that changes everything. We are always one choice away. If we want to live without regret, we need to make a mind shift—trading beliefs that limit our potential for ones that help us move toward optimal performance and pursue the success of being fully alive. We must move from a life of obligation to a life of intention.

In Mind Shift, McManus brings together twelve mental frameworks that have helped some of the most accomplished people on earth create internal structures of success. Among them:

• You have to choose between acceptance and uniqueness. If you are addicted to affirmation, you will become what others want you to be rather than who you were created to become.
• You don't need an audience. It's what you do in private that makes you who you are.
• Talent is a hallucinogen. It will make you believe that hard work and discipline are for everyone else.

Sharing experiences from entrepreneurs, artists, professional athletes, and his own career, McManus shows us how to transform our thinking—and, in turn, transform our lives.
Read more
Close