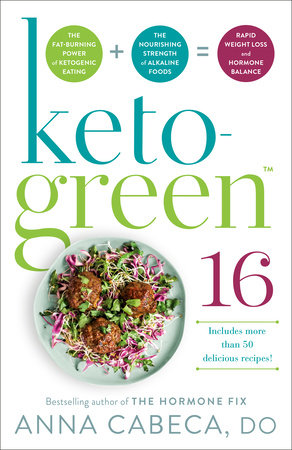 Read an Excerpt
Keto-Green 16
The Fat-Burning Power of Ketogenic Eating + The Nourishing Strength of Alkaline Foods = Rapid Weight Loss and Hormone Balance
Anna Cabeca, DO
Paperback
Hardcover
Ebook
Audiobook Download
About the Book
An innovative 16-day plan that combines the fat-burning benefits of a ketogenic diet with the brain-clearing and keto-flu protection of alkaline food, by the USA Today bestselling author of The Hormone Fix.

"A powerful program that paves the way for lasting health, longevity, and disease resistance."—David Perlmutter, MD, New York Times bestselling author of Grain Brain

Are you having a hard time losing weight? Do you suffer from brain fog, lack of focus, or poor memory? Do you run out of energy halfway through the day? Do you have unwanted cravings? If you answered "yes" to any of these questions, join the club! In this revolutionary book, Dr. Anna Cabeca shares a proven way to finally give you the results you want, need, and deserve.

There is no question that going keto works. This strict high-fat/low-carb diet denies the body glucose as a main source of energy and instead promotes the production and use of ketone bodies as fuel. It's a great way to move you off a weight plateau, gain willpower, and get results fast. But going keto also often results in gastrointestinal discomfort, low energy, and moodiness—known as the "keto flu"—which makes the diet hard to sustain. 

The solution? Add alkaline foods—leafy greens, other vegetables, broths, healthy oils, nuts, and seeds—for a lifestyle that's more sustainable and easier on your body. In other words: Go Keto-Green and thrive!

A triple-board-certified physician, Dr. Anna Cabeca developed her method through years of careful patient and test-panel research. In Keto-Green 16, she explains the science behind her innovation: Hormone production dips as a woman ages, leading to increased visceral fat. By pairing keto-diet staples with foods that bring the body's pH to a more alkaline level, you'll shed belly fat while balancing the hormones responsible for that bulkier midsection. And by fueling your brain with ketones—like rocket fuel instead of gasoline—you'll make better decisions, including healthier choices for what to eat. The unique nutritional balance of the Keto-Green 16 diet also boosts mood.

With 16 days of what-to-eat instructions (including a version for vegetarians and vegans); more than 50 delicious breakfast, lunch, dinner, and snack recipes; information about the 16 best alkaline foods; a 16-hour intermittent-fasting strategy; 16-minute HIIT exercise routines; and a chapter outlining the specifics of the nutritional plan just for men; Keto-Green 16 will ensure that you skip the flu and get on with rapid and amazing weight loss.
Read more
Close