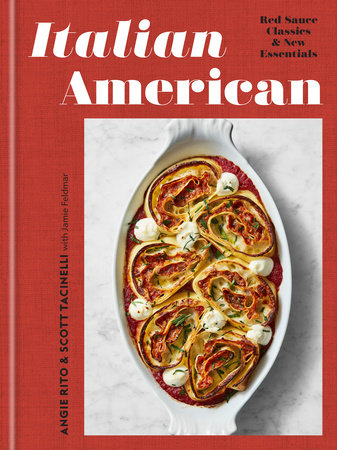 Read an Excerpt
Italian American
Red Sauce Classics and New Essentials: A Cookbook
Angie Rito and Scott Tacinelli with Jamie Feldmar
About the Book
IACP AWARD FINALIST • Reimagine Italian-American cooking, with more than 125 recipes rich with flavor and nostalgia from the celebrated husband-and-wife chef team of Michelin-starred Don Angie in New York City.

"Every bit of warmth and hospitality that you feel when you walk into Don Angie pours out of every page of this magical book."—Michael Symon

ONE OF THE BEST COOKBOOKS OF THE YEAR: New York Post, Minneapolis Star Tribune, Food52, Epicurious, Taste of Home

The words "red sauce" alone conjure images of an Italian-American table full of antipasti, both hot and cold, whisked off to make room for decadent baked pastas topped with molten cheese, all before a procession of chicken parm or pork chops all pizzaiola—and we haven't even gotten to dessert. It's old-school cooking beloved by many and imbued with a deep sense of family.

In Italian American, Angie Rito and Scott Tacinelli, the chefs of critically acclaimed Don Angie in New York City's West Village, reinvigorate the genre with a modern point of view that proudly straddles the line between Italian and American. They present family classics passed down through generations side-by-side with creative spins and riffs inspired by influences both old and new. These comforting dishes feel familiar but are far from expected, including their signature pinwheel lasagna, ribs glazed with orange and Campari, saucy shrimp parm meatballs, and a cheesy, bubbling gratin of broccoli rabe and sharp provolone.

Full of family history and recipes that will inspire a new generation, Italian American provides an essential, spirited introduction to an unforgettable way of cooking.
Read more
Close