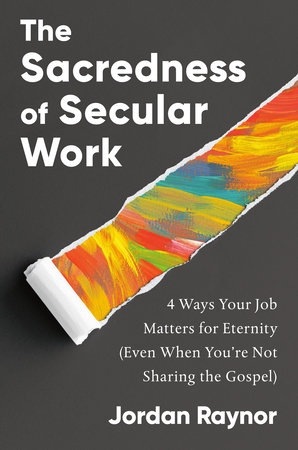 The Sacredness of Secular Work
4 Ways Your Job Matters for Eternity (Even When You're Not Sharing the Gospel)
Jordan Raynor
About the Book
From a leading voice in the faith and work movement and author of Redeeming Your Time comes the revolutionary message that God sees our daily work—in whatever form it takes—with far more value than we ever imagined.

"The Sacredness of Secular Work does an extraordinary job of being both personally relevant and, more importantly, biblically faithful."—Randy Alcorn, New York Times bestselling author of Heaven

Does your work matter for eternity?
 
Sadly, most believers don't think so. Sure, the 1 percent of the time they spend sharing the gospel with their co-workers matters. But most Christians view the other 99 percent of their time as meaning very little in the grand scheme of things.
 
But that's not how God sees it.
 
Jordan Raynor, a leading voice in the faith and work movement and bestselling author, offers a revolutionary message about how our daily jobs—from baristas and entrepreneurs to stay-at-home parent and coaches—have intrinsic and eternal value. In The Sacredness of Secular Work, he reveals unexpected ways our work truly matters. In these pages you'll discover

• How a low regard of our work limits our understanding of God and His Kingdom 
• Inspiring ways your work can reveal God's kingdom on earth here and now 
• Surprising strategies for ensuring your vocation has an eternal legacy
• Vital insights on what God's view of work tells us about heaven

Combining research, Scripture, and storytelling, Jordan Raynor proves that work, in its diverse forms, is one of the primary activities that brings God delight. This biblical perspective will set you free to pursue your passions and skills and—perhaps for the first time—experience the Creator's delight in the work of your hands.
Read more
Close