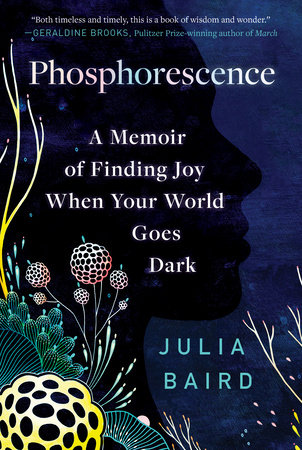 Read an Excerpt
Phosphorescence
A Memoir of Finding Joy When Your World Goes Dark
Julia Baird
Paperback
Ebook
Audiobook Download
July 6, 2021 | ISBN 9780593412169
About the Book
"Both timeless and timely, this is a book of wisdom and wonder" (Geraldine Brooks, Pulitzer Prize–winning author of March), a deeply personal exploration of what can sustain us through our darkest moments.

"What has fascinated and sustained me over these last few years has been the notion that we have the ability to find, nurture, and carry our own inner, living light—a light to ward off the darkness. This is not about burning brightly; it's about yielding a more simple phosphorescence—being luminous, having stored light for later use. Staying alive, remaining upright, even when lashed by doubt."
 
After surviving a difficult heartbreak and battle with cancer, acclaimed author and columnist Julia Baird began thinking deeply about how we, as people, persevere through the most challenging circumstances. She started to wonder, when we are overwhelmed by illness, loss or pain, or a tragedy outside our control: How can we keep putting one foot in front of the other? Baird went in search of the magic that fuels the light within—our own phosphorescence. In this stunning book, she reflects on the things that lit her way through the darkness, especially the surprising strength found in connecting with nature and not just experiencing awe and wonder about the world around her, but deliberately hunting it, daily.
 
Baird also writes about crossbeams of resilience: nurturing friendships and a quiet faith, pursuing silence, fighting for what she believes in, the importance of feeling small, learning from her mother's example of stoic grace. She also explores how others nurture their inner light, interviewing the founder of the modern forest therapy movement in Tokyo, a jellyfish scientist in Tasmania, and a tattooed priest from Colorado, among others.
 
Weaving together candid and moving memoir with deep research and reflections on nature and the world around her, Baird inspires readers to embrace new habits and to adopt a phosphorescent outlook on life, to illuminate ourselves and our days—even in the darkest times.
Read more
Close