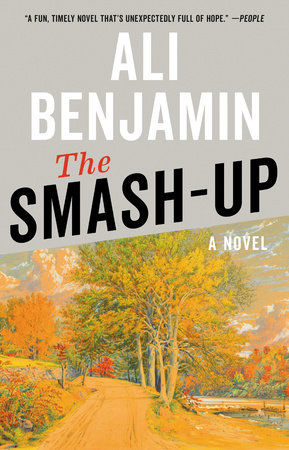 Read an Excerpt
The Smash-Up
A Novel
Ali Benjamin
Paperback
Ebook
Audiobook Download
February 23, 2021 | ISBN 9780593394007
About the Book
Smart, sublime, and wickedly clever, The Smash-Up captures—then transcends—our current polarized moment
 
"An exhilarating ride . . . hilarious . . . a modern and energetic story about a marriage on the skids."—The New York Times
 
Ethan has always been one of the good guys, and for years, nobody has appreciated this fact more than his wife, Zo. Until now. Jolted into activism by the 2016 election, Zo's transformed their home into the headquarters for the local resistance, turning their comfortable decades-long marriage inside-out.

Meanwhile, their boisterous daughter, Alex, grows wilder by the day. Ethan's former business partner needs help saving the media company they'd co-founded. Financial disaster looms. Enter a breezy, blue-haired millennial making her way through the gig economy. Suddenly Ethan faces a choice unlike any he's ever had to make.
 
Unfolding over fivet urbulent days in 2018, The Smash-Up wrestles shrewdly with some of the biggest questions of our time: What, exactly, does it mean to be a good guy? What will it take for men to break the "bro code"? How does the world respond when a woman demands more?  Can we ever understand another's experiences… and what are the consequences of failing to try? Moving, funny, and cathartic, this portrait of a marriage—and a nation—under strain is, ultimately, a magic trick of empathy, one that will make you laugh and squirm until its final, breathless pages.
Read more
Close