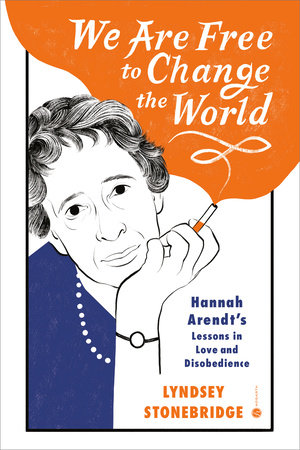 Read an Excerpt
We Are Free to Change the World
Hannah Arendt's Lessons in Love and Disobedience
Lyndsey Stonebridge
About the Book
A timely guide on how to live—and think—through the challenges of our century drawn from the life and thought of political theorist Hannah Arendt, one of the twentieth century's foremost opponents of totalitarianism

"We are free to change the world and to start something new in it."—Hannah Arendt

The violent unease of today's world would have been familiar to Hannah Arendt. Tyranny, occupation, disenchantment, post-truth politics, conspiracy theories, racism, mass migration: She lived through them all.

Born in the first decade of the last century, she escaped fascist Europe to make a new life for herself in America, where she became one of its most influential—and controversial—public intellectuals. She wrote about power and terror, exile and love, and above all, about freedom. Questioning—thinking—was her first defense against tyranny. She advocated a politics of action and plurality, courage and, when necessary, disobedience.

We Are Free to Change the World is a book about the Arendt we need for the twenty-first century. It tells us how and why Arendt came to think the way she did, and how to think when our own politics goes off the rails. Both a guide to Arendt's life and work, and its dialogue with our troubled present, We Are Free to Change the World is an urgent call for us to think, as Hannah Arendt did—unflinchingly, lovingly, and defiantly—through our own unpredictable times.
Read more
Close