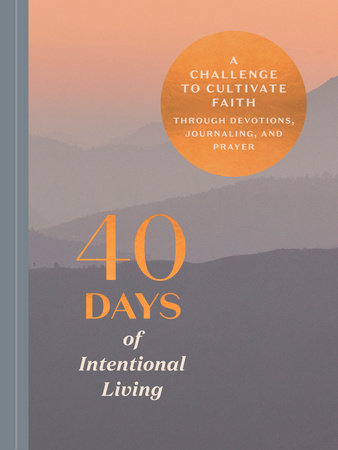 40 Days of Intentional Living
A Challenge to Cultivate Faith Through Devotions, Journaling, and Prayer: A Devotional
Ink & Willow
About the Book
Cultivate intentional faith practices with this 40-day guided journal that features thoughtful reflections from well-known Christian authors, inspirational quotes, and beautiful illustrations designed to set your mind and soul at rest.

The practice of developing intentional faith habits is not a natural tendency. It requires focus, discipline, prayer, and persistence to grow in our walk with God. We may have great intentions, but often the busyness and chaos of everyday life force our spiritual growth to take a back seat. Fortunately, 40 Days of Intentional Living offers both a practical guide and an inspiring resource to deepening your faith.

Divided into eight themes central to the Christian faith—such as hope, joy, surrender, and rest—these 40 devotions draw from the writings of a number of bestselling and beloved authors of faith, including C.S. Lewis, Dietrich Bonhoeffer, Martin Luther King Jr., Louie Giglio, Jennie Allen, Mark Batterson, Brennan Manning, Randy Alcorn, and more. Partnered with daily Scripture reading, thought-provoking journal prompts, and practical action steps to encourage you toward a more intentional faith lifestyle, this 40-day resource is the ideal companion for walking through the seasons of Lent and Advent, as well as for use in personal or group study.
Read more
Close