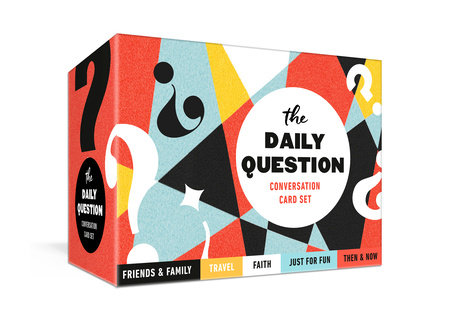 The Daily Question Conversation Card Set
100 Meaningful Questions to Start Discussions Around the Table or Anywhere: Card Games
Ink & Willow
About the Book
Spark meaningful conversations and create special memories with this unique deck of 100 cards featuring questions on hobbies, aspirations, fears, likes and dislikes, creativity, faith, and more in a beautiful keepsake box.

In our frenetic, technology-focused culture, finding time for meaningful face-to-face interaction with loved ones can prove difficult. Fortunately, The Daily Question Conversation Card Set offers an easy quick-start guide for doing just that.

Inspired by the popularity of the Daily Question series, this conversation card set is an invitation to new and exciting discussions around the table, in the car, or anywhere else you might take them. With one question on each beautifully designed card, this unique deck offers individuals and families a launching pad to topics in five categories--Family & Friends, Fun & Entertainment, Faith, Travel, and Then & Now:



What is something you own that is really old and why do you hang on to it?
When do you feel closest to God?
What is the best advice you've ever gotten?
What do you wish people knew about you?
What is the hardest thing about being a person of faith in today's culture?

Packaged in a handy box with category tabs for easy reference, these conversation cards are the ideal companion for family dinners, road trips, small groups, and book clubs. Whether the conversations are thought-provoking or just good for a laugh, all of the questions will encourage lasting memories.
Read more
Close