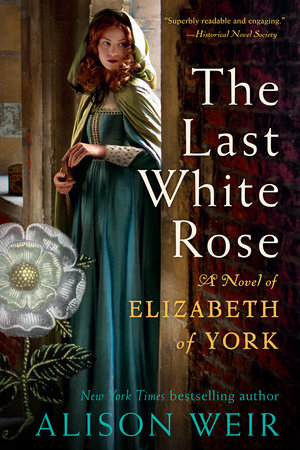 Read an Excerpt
The Last White Rose
A Novel of Elizabeth of York
Alison Weir
About the Book
New York Times bestselling author Alison Weir explores the turbulent life of Henry VIII's mother, Elizabeth, the first queen of the Tudor dynasty, in this "superbly readable and engaging" (Historical Novels Society) novel.

Elizabeth of York is the oldest daughter of King Edward IV. Flame-haired, beautiful, and sweet-natured, she is adored by her family; yet her life is suddenly disrupted when her beloved father dies in the prime of life. Her uncle, the notorious Richard III, takes advantage of King Edward's death to grab the throne and imprison Elizabeth's two younger brothers, the rightful royal heirs. Forever afterward known as "the Princes in the Tower," the boys are never seen again. On the heels of this tragedy, Elizabeth is subjected to Richard's overtures to make her his wife, further legitimizing his claim to the throne. King Richard has murdered her brothers, yet she feels she must accept his proposal.

As if in a fairy tale, Elizabeth is saved by Henry Tudor, who challenges Richard and defeats him at the legendary Battle of Bosworth Field. Following his victory, Henry becomes king and asks Elizabeth to be his wife, the first queen of the Tudor line. The marriage is happy and fruitful, not only uniting the warring houses of Lancaster and York—the red and white roses—but producing four surviving children, one of whom, Henry VIII, will rule the country for the next thirty-six years.

As in her popular Six Tudor Queens series, Alison Weir captures the personality of one of Britain's most important consorts, conveying Elizabeth of York's dramatic life in a novel that is all the richer because of its firm basis in history.
Read more
Close