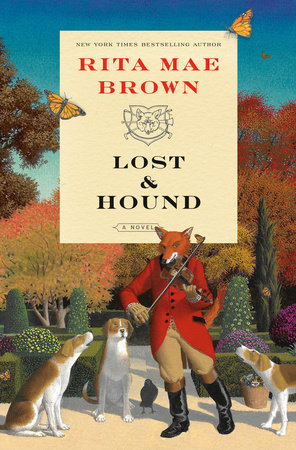 Read an Excerpt
Lost & Hound
A Novel
Rita Mae Brown
About the Book
When a body is found curiously displayed on "Sister" Jane Arnold's foxhunting grounds, members of her hunt club realize someone is sending them a dire message, in this exciting mystery from New York Times bestselling author Rita Mae Brown.

"Cunning foxes, sensible hounds, and sweet-tempered horses are among the sparkling conversationalists in this charming series."—The New York Times Book Review

Early fall in Virginia means shorter days, cooler temperatures, the blooming milkweeds of summer giving way to fields of fluffy seeds—and of course, the start of fox hunting season. It's "Sister" Jane Arnold's favorite time of year. And this year, the Jefferson Hunt Club is busier than ever, organizing a fundraising drive to help with the upkeep of their beloved hunting grounds.

But the festive season is interrupted by the appearance of a dead body, tied to a chair and placed directly in the path of an early-season hunt. No one recognizes the victim, but the intentional placement makes it clear that someone is sending a message. Then, one huntsman's valuable stamp collection is stolen, and they discover the victim was also a stamp collector. Sister suspects a connection, which is confirmed when just one stamp is found taped to the garage door of her friend and treasurer of the hunt club Ronnie Haslip. Could Ronnie have been involved in either the murder or the theft, or has he been marked as the next victim? Sister must uncover who has been sending these cryptic signs to her friends—before any of them wind up dead.
Read more
Close