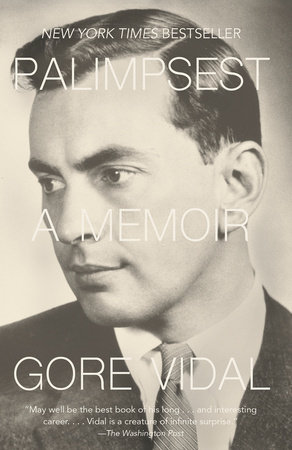 Palimpsest
A Memoir
Gore Vidal
About the Book
Vidal on Vidal—a great and supremely entertaining writer on a great and endlessly fascinating subject.

A New York Times best American memoir

"In the hands of Gore Vidal, a pen is a sword. And he points it at the high and mighty who have crossed his path." —Los Angeles Times

Palimpsest is Gore Vidal's account of the first thirty-nine years of his life as a novelist, dramatist, critic, political activist and candidate, screenwriter, television commentator, controversialist, and a man who knew pretty much everybody worth knowing (from Amelia Earhart to Eleanor Roosevelt, the Duke and the Duchess of Windsor, Jack Kennedy, Jaqueline Kennedy, Jack Kerouac, Truman Capote, Andre Gide, and Tennessee Williams, and on and on).

Here, recalled with the charm and razor wit of one of the great raconteurs of our time, are his birth into a DC political clan; his school days; his service in World War II; his emergence as a literary wunderkind in New York; his time in Hollywood, London, Paris and Rome; his campaign for Congress (outpolling JFK in his district); and his legendary feuds with, among many others, Truman Capote and William F. Buckley.

At the emotional heart of this book is his evocation of his first and greatest love, boyhood friend Jimmy Trimble, killed in battle on Iwo Jima.
Read more
Close