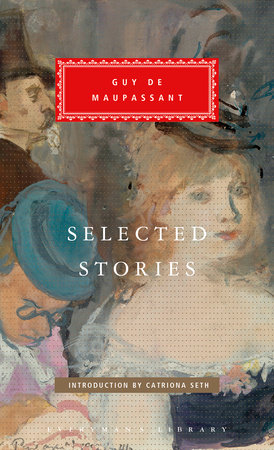 Read an Excerpt
Selected Stories of Guy de Maupassant
Introduction by Catriona Seth
Guy de Maupassant; Translated by Marjorie Laurie and Brian Rhys; Introduction by Catriona Seth
About the Book
A beautiful hardcover selection of the best works by one of the greatest short story writers in world literature

During his most productive decade, the 1880s, the French writer Guy de Maupassant wrote more than three hundred stories, notably including "The Necklace," "Boule de Suif," "The Horla," and "Mademoiselle Fifi." Marked by the psychological realism that he famously pioneered, the stories selected here take us on a tour of the human experience—lust and love, revenge and ridicule, terror and madness. Many take place in the author's native Normandy, but the settings range farther abroad as well, from Brittany and Paris to Corsica and the Mediterranean coast, and as far as North Africa and India.

Maupassant's remarkable psychological range and ability to evoke an entire world in a few pages have ensured that his stories have entertained generations of readers, and this volume of thirty-two of his most enduring masterpieces makes a perfect gift for any lover of classic fiction.

Everyman's Library pursues the highest production standards, printing on acid-free cream-colored paper, with full-cloth cases with two-color foil stamping, decorative endpapers, silk ribbon markers, European-style half-round spines, and a full-color illustrated jacket.
Read more
Close