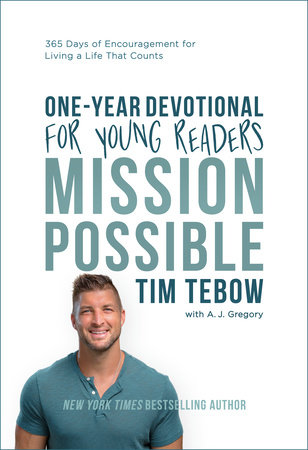 Mission Possible: A Daily Devotional for Young Readers
365 Days of Encouragement for Living a Life That Counts
Tim Tebow with A. J. Gregory
About the Book
This 365-day devotional from the New York Times bestselling author and athlete inspires young Christians to find their mission and pursue a bold, bright, fulfilling life—every single day (previously published as Mission Possible One-Year Devotional for Young Readers).

Tim Tebow believes that the greatest impediment to success is not any external resistance or roadblock we might face; it's living with a mission impossible mindset. But even young Christians can embrace their God-given purpose and adopt a mission possible outlook. 

This inspiring resource draws on principles from Tebow's Mission Possible to help pre-teens and teens discover that the secret to a more fulfilling, meaningful life is not more comfort or ease, but a clear mission. Covering 52 weekly themes of a mission possible life, these inspirational readings help readers identify their priorities, align their responsibilities, and make decisive, impactful choices. Embracing their God-given significance will bring young people a lasting sense of purpose. It's never too early to start living a mission-possible life!
Read more
Close