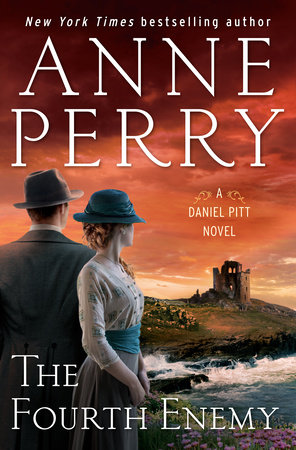 Read an Excerpt
The Fourth Enemy
A Daniel Pitt Novel
Anne Perry
About the Book
Daniel Pitt prosecutes a beloved philanthropist whose good deeds may hide dark—and dangerous—secrets in this gripping mystery from New York Times bestselling author Anne Perry.

Working his way up at London law firm fford Croft and Gibson, Daniel Pitt is named junior counsel on a fraud case with the potential to make or break his—and the firm's—reputation. The trouble is, Malcolm Vayne, the man on trial, has deep pockets, and even deeper connections. Vayne's philanthropic efforts paint him a hero in the eyes of the public, but Daniel's friend Ian, a police officer, has evidence to suggest otherwise. Nervously working alongside Gideon Hunter, the new head of his firm, Daniel is under pressure to prove that Vayne is guilty.

Meanwhile, Daniel's new bride, forensic scientist Miriam fford Croft, befriends Rose, Hunter's wife, and the two become engrossed in the women's suffrage movement. Miriam finds herself among women who are brave and determined enough to undergo hunger strikes and prison sentences. And though Malcolm Vayne's image is improved by his support of their cause, Miriam is not deceived.

The trial of Vayne reveals his outsize political ambitions, and heats up further when a crucial witness is found dead. During the medical examination, Miriam discovers evidence that will influence the case against Vayne but is kidnapped by one of his crazed supporters before she can reveal it. Daniel leaves the trial and, in a desperate midnight drive, attempts to rescue her from a dangerous, sea-swept dungeon, putting their lives—and the case against Vayne—in peril.
Read more
Close