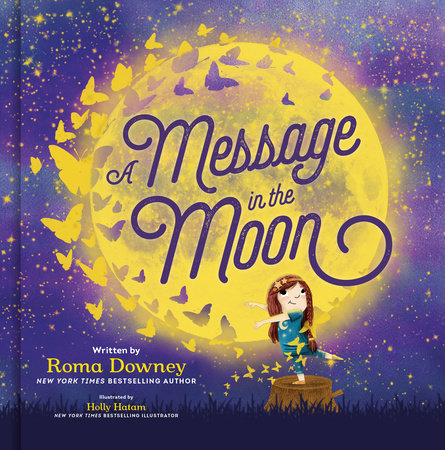 Read an Excerpt
A Message in the Moon
Roma Downey; Illustrated by Holly Hatam
About the Book
This gorgeous picture book illustrates the unique relationship between children and their parents and how this special love connects them always, from near or far—from Emmy-nominated actress, producer, and New York Times bestselling author Roma Downey.

Oh Moon, moon, moon that shines so bright.
Please send this message far . . .
So all will know that they are loved,
No matter where they are.

A Message in the Moon was inspired by Downey's own story of losing her mother when she was just ten years old and the comfort her father brought her. Years later, when Downey left home for college, her father pointed to the full moon and told her, "Whenever you feel alone, always look into the night sky, and you'll be reminded of how much I love you. I'll leave a message for you in the moon." That simple comfort remains with Downey today, and now she is passing it on to parents and children alike.

Beautifully illustrated by New York Times bestselling artist Holly Hatam, A Message in the Moon features charming vignettes that show characters finding reassurance in the moon's message. "Whether your child is going to their first sleepover, their first day of school, or their favorite stuffed animal is inexplicably gone, whether they are experiencing the loss of a goldfish, or a sibling has left for college, A Message in the Moon helps parents to explain the feeling of longing to their little ones," Downey writes.

With whimsical artwork and uplifting rhymes, A Message in the Moon is a perfect reminder for parents and children alike that they are never alone. They just need to look to the moon and remember that they are loved.
Read more
Close