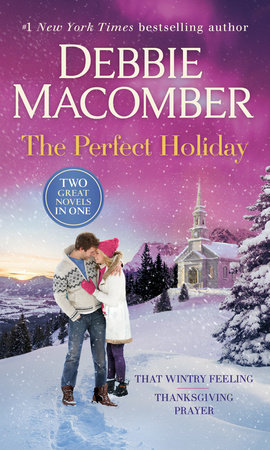 The Perfect Holiday: A 2-in-1 Collection
That Wintry Feeling and Thanksgiving Prayer
Debbie Macomber
Mass Market Paperback
Ebook
About the Book
Available in one volume for the first time: That Wintry Feeling and Thanksgiving Prayer, two of Debbie Macomber's classic novels that explore the power and joy of the holiday season.

That Wintry Feeling: After watching the man she loves walk down the aisle with her sister, Cathy Thompson needs to get away. Alaska—beautiful, remote, and far from bitter memories—sounds like the perfect place to start over. But a brand-new life comes with brand-new challenges . . . namely Grady Jones, a pilot and single dad who has a solution to both their problems: a marriage of convenience.

Thanksgiving Prayer: Seth immediately recognizes that Claudia is the woman for him—the woman he wants to marry and take back to Alaska. But Claudia is torn between Seth and her life in Seattle. How can she give up everything familiar, everything she's always worked for? And yet, she can't bear the thought of losing this man she's come to love. . . . Only when she acts with faith and hope can she find her true destiny.
Read more
Close