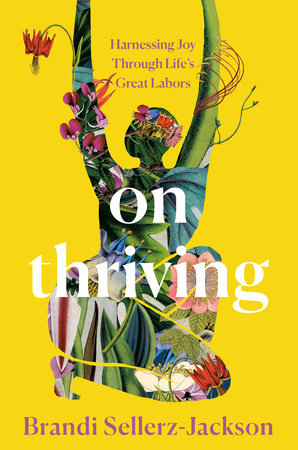 On Thriving
Harnessing Joy Through Life's Great Labors
Brandi Sellerz-Jackson
About the Book
A renowned doula shares powerful lessons on healing and thriving through the murky seasons of life in this moving, intimate guide to deeper self-awareness and radical joy.

"This book is a beacon of resilience. . . . A must-read for anyone committed to growth."—Erica Chidi Cohen, author of Nurture

We've all been there: We take a pause, look at our lives, and desire more—more from our relationships, more from our wellness journeys, maybe simply more from ourselves. For some, it might be more fun, more peace, more exploration—but what does it take to get to the other side of living in survival mode? In On Thriving, Brandi Sellerz-Jackson helps us wade through what she calls the four great labors of our lives—labors that she's had to overcome and that she has led many clients through.

Drawing from her experiences as a doula and intimate storytelling from her own life, Sellerz-Jackson guides us through the many phases of these great labors—labors that we can get stuck in, stunting our ability to thrive. Across age, gender, economic status, or background, we all move through the great labor of our relationships, our mental health, grief and loss, and the feeling of being othered. Sellerz-Jackson doesn't shy away from the pitfalls of these labors but rather challenges us to actively remain present within them and ask ourselves: What do I need to thrive in the space I'm currently in? In On Thriving, you'll come to recognize the survival tools you've picked up along the way and exchange them for thriving tools and "rich-uals." You'll commit to no longer making a home out of chaos and rediscovering sanctuary within yourself. 

Comparing our thriving to that of plant life, Sellerz-Jackson simplifies the complicated—and oftentimes overwhelming—journey as we attempt to grow in an inhospitable environment. With insightful and vulnerable storytelling, she invites a deep, soul-stirring investigation of our past and present to gather all that we need to thrive right where we are, right now.
Read more
Close