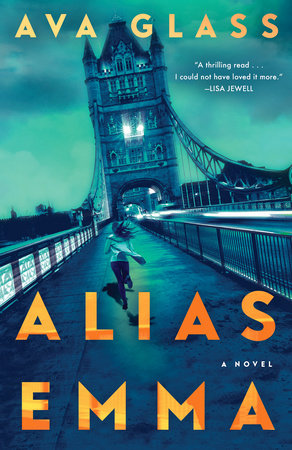 Read an Excerpt
Alias Emma
A Novel
Ava Glass
Paperback
Ebook
Audiobook Download
August 2, 2022 | ISBN 9780593587775
About the Book
"A thrilling read . . . I could not have loved it more."—LISA JEWELL
"Emma Makepeace is a worthy heir to the James Bond mantle."—JAMES PATTERSON

In this "high-octane spy thriller in the Ian Fleming mold" (CrimeReads), a British spy has twelve hours to deliver her asset across London after Russia hacks the city's security cameras. Can she make it without being spotted . . . or killed?

Shortlisted for the CWA Ian Fleming Steel Dagger Award • One of the Best Books of the Year: PopSugar, CrimeReads, Library Journal

Nothing about Emma Makepeace is real. Not even her name.
 
A newly minted secret agent, Emma's barely graduated from basic training when she gets the call for her first major assignment. Eager to serve her country and prove her worth, she dives in headfirst.
 
Emma must covertly travel across one of the world's most watched cities to bring the reluctant—and handsome—son of Russian dissidents into protective custody, so long as the assassins from the Motherland don't find him first. With London's famous Ring of Steel hacked by the Russian government, the two must cross the city without being seen by the hundreds of thousands of CCTV cameras that document every inch of the city's streets, alleys, and gutters.
 
Buses, subways, cars, and trains are out of the question. Traveling on foot, and operating without phones or bank cards that could reveal their location or identity, they have twelve hours to make it to safety. This will take all of Emma's skills of disguise and subterfuge. But when Emma's handler goes dark, there's no one left to trust. And just one wrong move will get them both killed.
Read more
Close