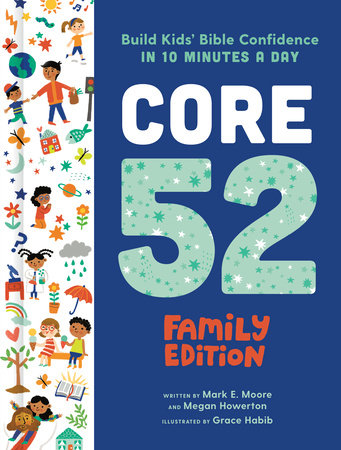 Read an Excerpt
Core 52 Family Edition
Build Kids' Bible Confidence in 10 Minutes a Day: A Daily Devotional
Mark E. Moore & Megan Howerton; Illustrated by Grace Habib
About the Book
In just ten minutes a day, you and your kids can master 52 core Bible verses over the course of a year—and have fun doing so!

While there are lots of one-year Bible reading plans and family devotionals, few help kids understand the words that they're reading. In this new addition to the popular Core 52 line of resources, Mark E. Moore and his daughter, former teacher and stay-at-home mom Megan Howerton, coach you and your family through 52 of the Bible's key verses. 

Each week provides you and your child with a simple 5-day plan:

• Day 1—read the Bible verse and explanatory text and start a fun challenge
• Day 2—memorize a key verse with the help of an engaging 3-minute video
• Day 3—read a longer related Bible passage and answer a question
• Day 4—further explore through a second Scripture verse and question
• Day 5—answer deeper questions together and assess the results of the week's challenge

In just a year, Core 52 Family Edition takes children aged 6 to 12 from biblically curious to spiritually confident and competent. Best of all, it's a journey you'll take with them!
Read more
Close