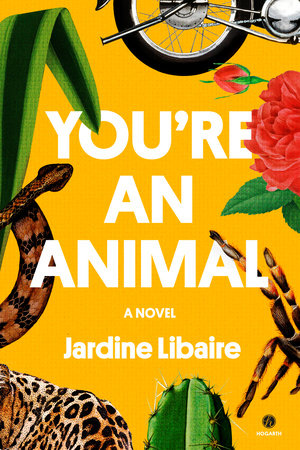 Read an Excerpt
You're an Animal
A Novel
Jardine Libaire
About the Book
A tender portrait of four misfits, on the run across Texas, that speaks to those who are left out, those who opt out—and to the wild animal in us all

"Libaire creates a delicious universe at a constant brink of collapse, a universe I never wanted to see end."—Gerardo Sámano Córdova, author of Monstrilio

It's springtime in Oklahoma, and Ernie, an outcast in a group of outcasts, feels uneasy. Nerves at the abandoned summer camp where he and his fellow oddballs are crashing have been on edge since the arrival of a teenager named Coral, unceremoniously dropped off from her family's minivan one afternoon. Adding to her aura of mystery, Coral doesn't say a word. Ever.

When a drug lab explosion burns the compound to the ground, Ernie, Coral, and the hard-living couple Staci and Ray escape on a pair of motorcycles. Feeling shaky with fear and alive with a new surge of freedom, the four outcasts find a rundown house in rural Texas: It's a place to stay, they tell themselves, for now. Yet to their surprise, over card games and wild strawberries and target-shooting and late-night dancing to ZZ Top on the local radio, a quirky little family forms. At the heart of their new home is Coral, whose silence only amplifies her strange, undefinable power and the sense that she found them for a reason.

But soon, tensions rise, and a mysterious threat begins to materialize—whether it's coming from inside or outside the house still isn't clear. All this crew knows is, now there's something at stake: their chosen family, forged by both loneliness and joy, and bonded by an awkward kind of love.
Read more
Close