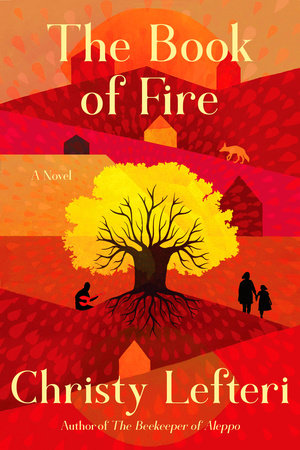 Read an Excerpt
The Book of Fire
A Novel
Christy Lefteri
About the Book
"A compelling story of love, loss, and redemption in the face of unimaginable tragedy . . . As with The Beekeeper of Aleppo, Lefteri transports the reader to a once lush and now destroyed world."—Kristin Hannah, #1 New York Times bestselling author of The Nightingale

"Christy Lefteri writes with great delicacy and urgency, making us see the world through fresh eyes."—Heather Morris, #1 New York Times bestselling author of The Tattooist of Auschwitz

In present-day Greece, deep in an ancient forest, lives a family: Irini, a musician, who teaches children to read and play music; her husband, Tasso, who paints pictures of the forest, his greatest muse; and Chara, their young daughter, whose name means joy. On the fateful day that will forever alter the trajectory of their lives, flames chase fleeing birds across the sky. The wildfire that will consume their home, and their lives as they know it, races toward them.

Months later, as the village tries to rebuild, Irini stumbles upon the man who started the fire, a land speculator who had intended only a small, controlled burn to clear forestland to build on but instead ignited a catastrophe. He is dying, although the cause is unclear, and in her anger at all he took from them, Irini makes a split-second decision that will haunt her.

As the local police investigate the suspicious death, Tasso mourns his father, who has not been seen since before the fire. Tasso's hands were burnt in the flames, leaving him unable to paint, and he struggles to cope with the overwhelming loss of his artistic voice and his beloved forest. Only his young daughter, who wants to repair the damage that's been done, gives him hope for the future.

Gorgeously written, sweeping in scope and intimate in tone, The Book of Fire is a masterful work about the search for meaning in the wake of tragedy, as well as the universal ties that bind people together, and to the land that they call home.
Read more
Close