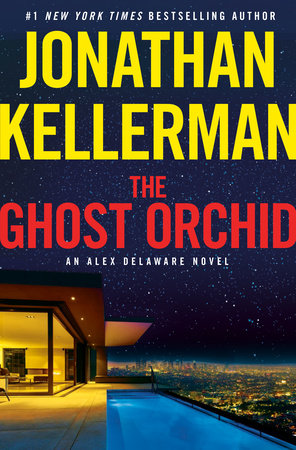 The Ghost Orchid
An Alex Delaware Novel
Jonathan Kellerman
About the Book
Psychologist Alex Delaware and Detective Milo Sturgis confront a baffling, vicious double homicide that leads them to long-buried secrets worth killing for in the riveting thriller from the #1 New York Times bestselling "master of suspense" (Los Angeles Times).

LAPD homicide lieutenant Milo Sturgis sees it all the time: Reinvention's a way of life in a city fueled by fantasy. But try as you might to erase the person you once were, there are those who will never forget the past . . . and who can still find you.

A pool boy enters a secluded Bel Air property and discovers two bodies floating in the bright blue water: Gio Aggiunta, the playboy heir to an Italian shoe empire, and a gorgeous, even wealthier neighbor named Meagin March. A married neighbor.

An illicit affair stoking rage is a perfect motive. But a "double" in this neighborhood of gated estates isn't something you see every day. The house is untouched. No forced entry, no forensic evidence. The case has "that feeling," and when that happens, Milo turns to his friend, the brilliant psychologist Alex Delaware.

As Milo and Alex investigate both victims, they discover two troubled pasts. And as they dig deeper, Meagin March's very identity begins to blur. Who was this glamorous but conflicted woman? Did her past catch up to her? Or did Gio's family connections create a threat spanning two continents?

Chasing down the answers leads Alex and Milo on an exploration of L.A.'s darkest side as they contend with one of the most shocking cases of their careers and learn that that some secrets are best left buried in the past.
Read more
Close