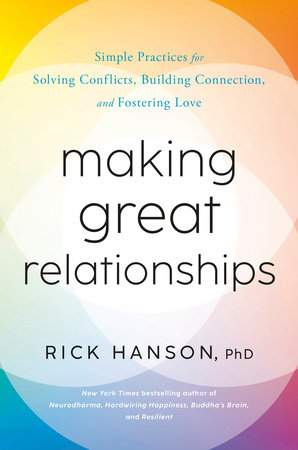 Read an Excerpt
Making Great Relationships
Simple Practices for Solving Conflicts, Building Connection, and Fostering Love
Rick Hanson, PhD
About the Book
"50 simple, powerful ways to improve your relationships at home and at work" (Lori Gottlieb, author of Maybe You Should Talk To Someone), based on the latest findings in neuroscience, mindfulness, and positive psychology—by the New York Times bestselling author of Neurodharma and Resilient

Relationships are usually the most important part of a person's life. But they're often stressful and frustrating, or simply awkward, distant, and lonely. We feel the weight of things unsaid, needs unmet, conflicts unresolved. It's easy to feel stuck.
 
But actually, new research shows that you create your relationships every day with the things you do and say, which gives you the ability to start improving them now. You have the power to make all your relationships better just by making simple changes that start inside yourself.
 
New York Times bestselling author of Buddha's Brain and Hardwiring Happiness, Rick Hanson, PhD, brings his trademark warmth and clarity to Making Great Relationships, a comprehensive guide to fostering healthy, effective, and fulfilling relationships of all kinds: at home and at work, with family and friends, and with people who are challenging. As a psychologist, couples and family counselor, husband, and father, Dr. Hanson has learned what makes relationships go badly and what you can do to make them go better.
 
Grounded in brain science and clinical psychology, and informed by contemplative wisdom, Making Great Relationships offers fifty fundamental skills, including:
 
• How to convince yourself that you truly deserve to be treated well
• How to communicate effectively in all kinds of settings
• How to stay centered so that conflict doesn't rattle you so deeply
• How to see the good in others (even when they make it difficult)
• How to set and maintain healthy boundaries or resize relationships as needed
• How to express your needs so that they are more likely to be fulfilled
 
With these fifty simple yet powerful practices, you can handle conflicts, repair misunderstandings, get treated better, deepen a romantic partnership, be at peace with others, and give the love that you have in your heart. Making Great Relationships will teach you how to relate better than ever with all the people in your life.
Read more
Close