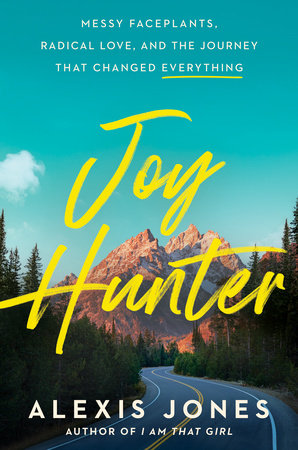 Read an Excerpt
Joy Hunter
Messy Faceplants, Radical Love, and the Journey That Changed Everything
Alexis Jones
About the Book
A timely, colorful, and cinematic memoir chronicling one woman's journey to rediscover her own power, resilience, and happiness

"Joy Hunter gives us all permission to be human and invites us to radically love ourselves for exactly who we are."—KRISTEN BELL

I took a bone-deep breath as we drove away from my state, my city, my street, and my house, escaping my life and leaving behind all my broken parts.

With a successful speaking career putting her on the road 250 days a year, a slew of prestigious awards for her activism, the hugely successful book I Am That Girl, and a happy marriage, Alexis Jones was living a seemingly charmed life. But the principles of self-care, setting boundaries, and eschewing perfectionism that she espoused in her talks didn't seem to translate into her own life; she still never seemed to feel "enough" inside. Then, in a matter of months, things started to fall apart on the outside, too: She discovered that the man she'd always called dad was not her biological father, she had a devastating miscarriage, and the pandemic sidelined her travel schedule—and paycheck. A self-described "productivity junkie," she was forced to slow down for the first time in her life.

Hoping that time away would be a good distraction from all the chaos and heartbreak, Alexis rented an RV and set out for the open road to explore the rugged American west with her husband and their best friend. For her, the trip was both healing and disruptive. In the presence of nature's majesty, she re-learned the art of sitting still and surrendering to the unknowable; along treacherous hiking trails she wrestled with her self-doubt and fear of failure; and through profound conversations with friends old and new, she reconnected to the power of sisterhood and began to rebelliously reconsider her priorities and ambitions—for herself and whatever shape her family might take going forward.
 
A soulful memoir of seeking and finding, Joy Hunter traces Alexis's quest to reclaim her voice and find wholeness within. Along the way she discovers that there is always purpose to our pain and that happiness is not something that can simply be checked off a list. Joy, it turns out, is not a destination; it's a way of life.
Read more
Close