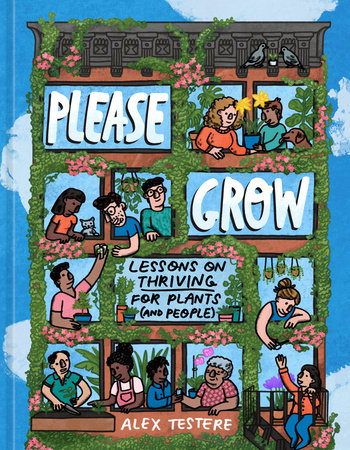 Please Grow
Lessons on Thriving for Plants (and People)
Alex Testere
About the Book
Discover the life lessons plants can teach you—from the importance of putting down roots to leaning on others for support and nourishment—in this charming, illustrated guide to personal growth.
Every idea, relationship, or project begins with a seed: A seed of creativity, a flicker of hope, an inkling of motivation. In
Please Grow
, illustrator Alex Testere takes us on a journey through the life of a well-tended plant or garden—from nourishing a seed to propagating, protecting, pruning, and beyond—relating the lessons we can learn from the natural world to our everyday lives, including:
Planting a seed is only the beginning.
A flower is a reminder of what is possible when the right circumstances align.
Extending your roots is like building community--both are lifelines.
Compost old ideas and experiences to create fuel for a fresh start.
Nothing lasts forever--and in some cases, that can be a good thing.
With sweet, vibrant art, ecological sidebars, and a sprinkling of practical plant care tips,
Please Grow
is a gentle reminder of life's cyclical, ever-blossoming nature. We all have the power to plant our own seeds and harvest our own blooms. So, what are you waiting for?
Read more
Close