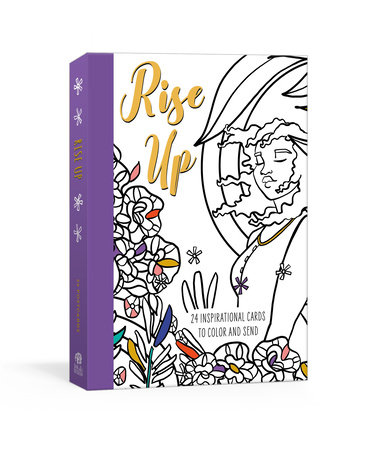 Rise Up Postcard Book
24 Inspirational Cards to Color and Send
Ink & Willow
About the Book
Celebrate Black voices, culture, and history—and be inspired to stand boldly against injustice—with twenty-four colorable postcards to send to friends and family (or enjoy yourself!), from the creators of the Rise Up coloring book.

Featuring inspirational quotes and beautiful artwork, this set of twenty-four detachable, colorable postcards invites you to draw strength, courage, and hope from a variety of inspiring quotes, including historical and contemporary Black voices, the Bible, and hymns. Quotes are from well-known voices like Martin Luther King Jr., John Lewis, Maya Angelou, and Sojourner Truth; current leading antiracism educators and authors like Latasha Morrison and Jemar Tisby; Black spirituals and hymns; and Bible verses that uplift and encourage.

Each card has a splash of metallic ink, so they are pretty enough to send as they are. That way, you can color them yourself or let the recipient have all the fun. You might even decide to keep them yourself to display in your home! Featuring illustrations by Black artists, these postcards are an exquisite celebration of Black culture, experience, and excellence.
Read more
Close