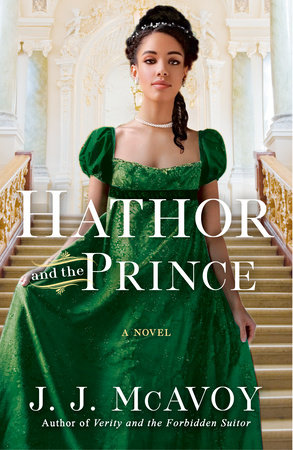 Hathor and the Prince
A Novel
J.J. McAvoy
Paperback
Ebook
Audiobook Download
March 19, 2024 | ISBN 9780593614853
About the Book
"Bridgerton lovers have found their next read. J. J. McAvoy is a welcome new voice in historical romance."—New York Times bestselling author Sarah MacLean, on Aphrodite and the Duke

Hathor Du Bell is on her own path to find love in the third installment of J. J. McAvoy's Regency romance series, following Aphrodite and the Duke and Verity and the Forbidden Suitor.

Hathor Du Bell has always fought to break free from the shadow left by her revered older sister, Aphrodite. It has been two years since Hathor's debut, and while Aphrodite has married a duke and become a duchess, Hathor has been left with the ton's most mediocre suitors. With the London season coming to a close, Hathor's anxieties reach a peak. Will she be the only Du Bell unable to find her perfect match?

Then Hathor's wildest dream comes true when the queen announces she'll be presenting her nephew, Prince Wilhelm Augustus Karl Von Edward of Malrovia, during the weeklong society event at the Du Bells' Belclere Castle. But the dream quickly crumbles when Hathor comes face-to-face with the prince, and he is nothing like she imagined. 

As a flirtatious rivalry sparks a genuine romance, Hathor fights to make a name of her own despite society's expectations of her. Amidst the grand balls and growing feelings, the final events of the season promise to be the most romantic and shocking of them all.
Read more
Close