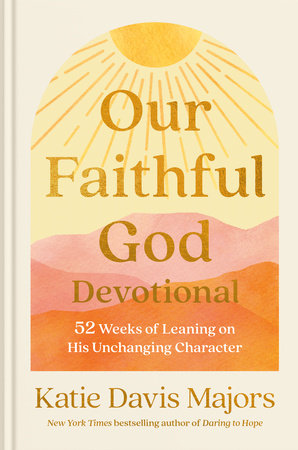 Read an Excerpt
Our Faithful God Devotional
52 Weeks of Leaning on His Unchanging Character
Katie Davis Majors
About the Book
The bestselling author of Kisses from Katie takes you on a journey through Scripture to discover more about who God is and how much He loves you, in 52 weeks of power-packed devotional readings.

In a world of uncertainty, we can find peace in knowing that the God who carried His people through the desert, the God who calmed the seas, the God who promised His presence, is still our God today. 

In this unique five-day-a-week devotional, featuring a flexible format that adapts to your schedule, Katie Davis Majors invites you into a yearlong experience of immersing yourself in the truth of who God is. As Katie has discovered, the more time we spend understanding the richness, beauty, and kindness of God, the more quickly our hearts turn toward Him with our needs and our secrets, our hurts and our longings. 

Our Faithful God Devotional will help you draw daily closer to the One who sees you, who loves you, and who holds each moment in His hands.
Read more
Close