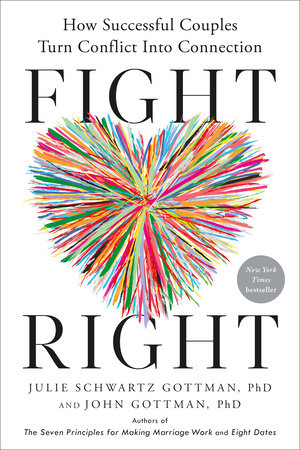 Fight Right
How Successful Couples Turn Conflict into Connection
Julie Schwartz Gottman, PhD, and John Gottman, PhD
About the Book
LEARN THE 5 SECRETS OF SUCCESSFUL COUPLES

Conflict is the top reason couples seek help—but it's also an opportunity for greater intimacy, deeper connection, and lasting love according to this essential guide from the world's leading relationship scientists and bestselling authors of The Seven Principles for Making Marriage Work and Eight Dates.

"An indispensable resource that couples will use over and over again."—Lori Gottlieb, New York Times bestselling author of Maybe You Should Talk to Someone

How we fight predicts the future of our relationships. Most of us blunder into conflict without knowing what we are really fighting about and then quickly become overwhelmed by physiological responses we can't control and emotions we don't anticipate. The truth is the happiest and most successful couples fight—all the time. Conflict is human, and necessary.

Through decades of research, Drs. John and Julie Gottman, founders of the world-famous Love Lab, have identified the five common mistakes we make when we are at odds. In Fight Right, we learn the five secrets that help us to get back on track and harness conflict to build stronger, healthier relationships. With kindness, clarity, and a deep understanding of the struggles couples are going through, the Gottmans show us that we each have a unique conflict culture, borne of how we were raised and how we experienced past relationships, and they take us through all the possible combinations, from Avoiders, to Validators, to Volatiles, and how they can best work together. 

Fight Right is an essential resource that will help couples escape the win-or-lose mentality in favor of a collaborative approach: calming down, staying connected, and really understanding, so that our fights can bring us closer.
Read more
Close