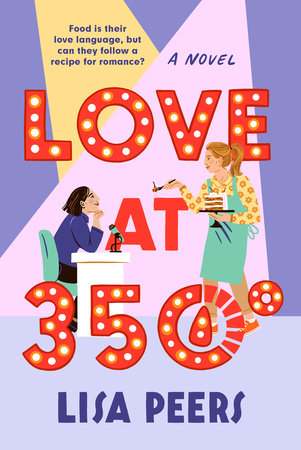 Love at 350°
A Novel
Lisa Peers
Paperback
Ebook
Audiobook Download
October 10, 2023 | ISBN 9780593821572
About the Book
Food is their love language, but can they follow a recipe for romance?

When an unexpected and forbidden attraction starts to simmer between judge and contestant on the set of a TV baking competition, both women must decide what they're willing to risk for the ultimate prize in this debut rom-com.

Tori Moore, a popular high-school chemistry teacher, an avid home baker, and a soon-to-be empty nester, auditions for the American Bake-o-Rama TV competition at the urging of her twin teenagers. If she somehow makes it all the way, the prize money could allow her to finally open her own bakery. But still reeling from her divorce and being naturally risk-averse, it's not just money that's standing between Tori and her dreams. 
 
Once on the set in Sonoma wine country, Tori catches the eye of Kendra Campbell, the notoriously ruthless celebrity chef and Bake-o-Rama judge. Kendra is desperate to save her restaurant and expand her Chippy Chunk cookie empire. The show is her ticket to financial security, but she's been told to soften her approach to appease viewers seeking feel-good entertainment. After years spent fighting for space in a male-dominated industry, Kendra finds it challenging—yet surprisingly rewarding—to make the shift from harsh critique to encouragement.
 
Tori is drawn to the uncompromising way Kendra moves through the world and senses a tenderness beneath her tough exterior. She and Kendra find it increasingly hard to keep their distance amid six weeks of cooking challenges and kitchen disasters. For both of them, the best prize of all might just be love.
Read more
Close