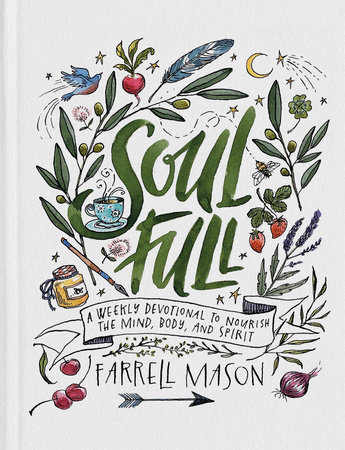 Read an Excerpt
Soulfull
A Weekly Devotional to Nourish the Mind, Body, and Spirit
Farrell Mason
About the Book
Soulfull is a gentle nudge to reorient our intentions and want more for our one precious life: a collection of spiritual reflections, recipes, activities, and prayers that come together as an encyclopedia of hope and spiritual direction.

"Soulfull rebuilt and bolstered some corners of my soul that had been worn away. What a gift!"—Shauna Niequist, New York Times bestselling author of I Guess I Haven't Learned That Yet

Are we truly living the life we want to live? Sometimes, but not nearly enough. Our souls crave authentic experiences, but seeking them is a challenge in our overcommitted world where often we are more focused on "making it through" than on "making it sacred." We need regular soul wake-up calls and holy daily rhythms to live a life that feels good from the inside out, shines with meaning, and radiates joy.

In this refreshingly original invitation to soulful living, Farrell Mason speaks to the universal human experience: navigating relationships, coping with change, rebounding from a setback or loss, finding peace, and prioritizing food, fellowship, faith, and regular joy. Soulfull offers balanced and creative ways to pull a little bit of heaven down to our patches of earth.

Whether you're taking a walk in nature, reading a meditation on hope, finding comfort in a prayer, creating a sumptuous recipe for family and friends, or planting an herb garden, Soulfull is an adventure—a mothering toward new growth, an exploration of life-giving experiences, and a joyous resource to nourish your soul and welcome a life filled with more wonder, delight, and meaning.
Read more
Close