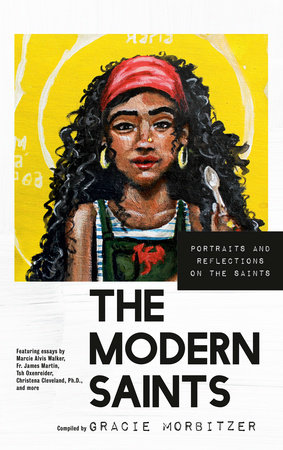 Read an Excerpt
The Modern Saints
Portraits and Reflections on the Saints
Compiled by Gracie Morbitzer
About the Book
The saints were the original social justice advocates. This stunning collection of contemporary portraits celebrates their diversity and spiritual depth as never before, accompanied by thoughtful reflections from bestselling and influential writers.

"This book is profound, insightful, and beautifully disruptive."—Sarah Bessey, author of the New York Times bestsellers A Rhythm of Prayer and Jesus Feminist

Over the centuries, the rich diversity and relevance of the saints has been whitewashed, their images portrayed as expressionless, and the lessons of their lives watered down. But artist, writer, and modern iconographer Gracie Morbitzer is painting the truth. The Modern Saints is a celebration of the divergence of ethnicities, ages, abilities, and practices of spiritual pilgrims who transformed the world, and an invitation to connect with historical icons whose lives have astonishing and inspiring relevance for our present-day.

Each entry of this striking collection features a contemporary image of the saint, a re-imagining of the space they might hold in society today, and an inspiring prayer to honor each figure. Readers will appreciate each contribution from our current generation's spiritual thought leaders that illuminate the impact and wisdom each historical saint offers us today.

Among forty-eight additional spiritual reflections and original paintings, The Modern Saints presents:

• Fr. James Martin's reflections on the flexibility of St. Ignatius of Loyola to encounter God in everyday life
• Tsh Oxenreider's unique appreciation for the endurance of St. Monica with her strong-willed children
• Dr. Christena Cleveland's praise for St. Catherine of Alexandria's fight for intersectional justice
• Kirby Hoberg's inspiration from the resilience of St. Kateri—the first indigenous American to be canonized—who overcame personal humiliation to cultivate love in her community

With its unique portraits and compelling narrative, this 52-week collection is perfect for devotional reading, as it will move, encourage, and strengthen each reader as they find solidarity and profound belonging within the host of saints.
Read more
Close