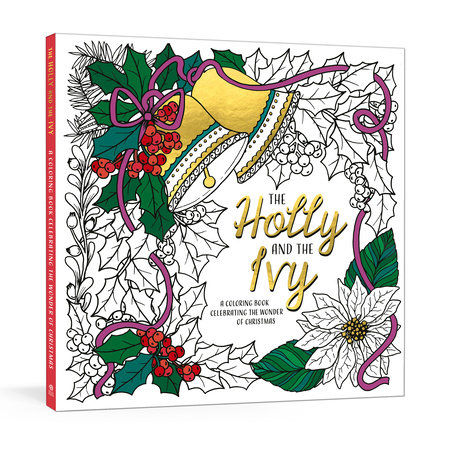 The Holly and the Ivy
A Coloring Book Celebrating the Wonder and Joy of Christmas
Ink & Willow
About the Book
ECPA BESTSELLER • Get into the spirit of the Christmas season with The Holly and the Ivy, a beautiful coloring book for adults filled with festive illustrations and holiday-inspired quotes from beloved writers, songs, and Scripture.

With candles in the windows, lights in the trees, stockings over fireplaces, and the sound of bells in the air, Christmas really is one of the most wonderful times of the year! In the midst of Christmas shopping, party planning, and event hosting, The Holly and the Ivy offers a beautiful and festive way to meditate on the wonder and joy of the season. Each beautifully illustrated page features an original design from a talented artist that illustrates a corresponding quote.

Features include:
• 45 large format 9.75" x 9.75" (25x25cm) pages with perforated edges for easy removal and display
• High quality, bleed-proof, bright white paper stock—heavy enough to use pencils, pens, or markers
• Quotes from the Bible, Christmas songs, and a variety of inspirational writers, such as Ann Voskamp, Asheritah Ciuciu, Charles Dickens, Enuma Okoro, G. K. Chesterton, George Eliot, Liz Curtis Higgs, Maya Angelou, and more
• A link to a Spotify Christmas playlist to help set the festive mood for worship, creative expression, and a spirit of joy
• Original illustrations by artists who were previously featured in the bestselling Whatever Is Lovely and Everything Beautiful

The Holly and the Ivy invites you into the holiday spirit and encourages you to cultivate a joyful perspective so that you can share cheer and goodwill to those around you. Whether you are curling up by the fire or hosting a Christmas party with friends, pick up your favorite art supplies and color your way to a refreshed appreciation for this special season.
Read more
Close