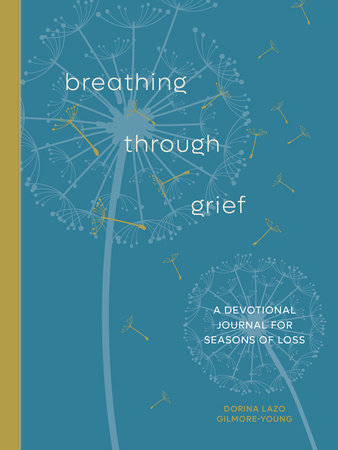 Read an Excerpt
Breathing Through Grief
A Devotional Journal for Seasons of Loss
Dorina Lazo Gilmore-Young
About the Book
Reflect on your unique path through grief with this guided journal, featuring compassionate resources, short devotionals, and heartfelt essays from the perspective of a woman who has walked her own journey of loss.

After the sudden loss of her husband, Dorina Lazo Gilmore-Young felt lost in her grief. With Breathing Through Grief, she provides a comforting, giftable resource for those who are processing their own loss, whether of a loved one, a season of life, or a dream. In addition to the twenty-five short devotionals that each focus on a different aspect of grief from Dorina's personal experience, the journal includes special resources such as breathing exercises, reflection questions, soul care tips, ample writing space, advice on how to talk to children about death, suggestions on how to approach triggers, and creative ways to honor a loved one's memory.

If you or someone close to you is walking through loss⁠, let the comforting words in Breathing Through Grief encourage you with the knowledge that you are not alone and bring you a semblance of peace as you continue forward on the road to healing.
Read more
Close