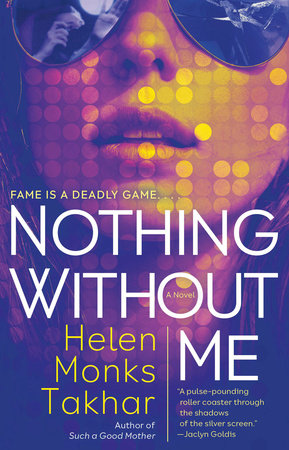 Nothing Without Me
A Novel
Helen Monks Takhar
Paperback
Ebook
Audiobook Download
April 2, 2024 | ISBN 9780593822647
About the Book
The gripping tale of a film director with a shadowy past, her missing lead actress, and the disturbing cost of fame—from "addictive" (People) suspense writer Helen Monks Takhar

"A pulse-pounding roller coaster through the shadows of the silver screen."—Jaclyn Goldis, author of The Chateau

Fame is a deadly game. . . .

April Eden is about to have the night of her life. After years struggling uphill as a female director, her debut movie The Vanished Woman is up for a major British film award, placing her firmly on Hollywood's radar. Her leading lady, Essie Lay—a fragile but magnetic former TV host—is on the cusp of a stunning comeback after being canceled for a disturbing scandal.

When Essie messages April saying she can't face the ceremony, April heads to Essie's palatial London mansion, Lotus Lodge, to convince her to enjoy their big night together. But upon arriving, April is faced with tragedy: Essie's body is floating in her swimming pool, all signs pointing to suicide. Panicked, April activates Essie's team—her put-upon sister/manager, Janine, and her wily agent, Jonathan—expecting them to do damage control while she heads to the awards ceremony; she's devastated yet determined to do what she can to protect Essie's legacy.

But by the time April returns to Lotus Lodge to face the fallout, Essie's body has vanished. Was Essie actually murdered? Is this an elaborate hoax or publicity stunt gone wrong? And why does April start receiving unsettling messages, trying to pin the blame on her?

Taut, twisty, and deliciously page-turning, Nothing Without Me examines the high price of female fame, how far some will go to climb the slippery ladder of celebrity, and the unbearable pressure of being the woman everyone wants to be.
Read more
Close