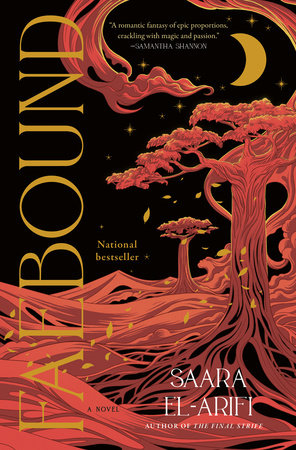 Read an Excerpt
Faebound
A Novel
Saara El-Arifi
About the Book
Two elven sisters become imprisoned in the intoxicating world of the fae, where danger and love lie in wait. Faebound is the first book in an enchanting new trilogy from the Sunday Times bestselling author of The Final Strife.

"A romantic fantasy of epic proportions, crackling with magic and passion."—Samantha Shannon, bestselling author of The Priory of the Orange Tree

Yeeran was born on the battlefield, has lived on the battlefield, and one day, she knows, she'll die on the battlefield.

As a warrior in the elven army, Yeeran has known nothing but violence her whole life. Her sister, Lettle, is trying to make a living as a diviner, seeking prophecies of a better future.

When a fatal mistake leads to Yeeran's exile from the Elven Lands, both sisters are forced into the terrifying wilderness beyond their borders. 

There they encounter the impossible: the fae court. The fae haven't been seen for a millennium. But now Yeeran and Lettle are thrust into their seductive world, torn among their loyalties to each other, their elven homeland, and their hearts.
Read more
Close