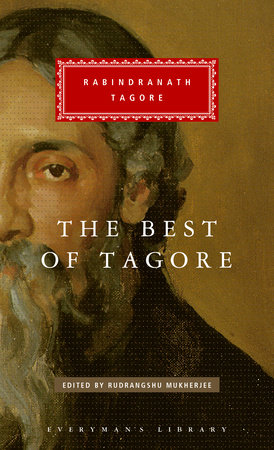 Read an Excerpt
The Best of Tagore
Edited and Introduced by Rudrangshu Mukherjee
Rabindranath Tagore; Edited and Introduced by Rudrangshu Mukherjee
About the Book
A generous one-volume selection of the best and most important works—poems, songs, stories, essays, novellas, and novels—by the prolific Bard of Bengal, the first non-European to win the Nobel Prize in Literature.

Rabindranath Tagore published his first volume of poetry as a teenager and went on to become a towering figure of Bengali and world literature, celebrated for his innovations in poetry, prose, drama, and music.

Tagore was remarkably productive over his long life; his complete works fill many volumes and include sixty collections of verse and more than two thousand songs, two of which have become the national anthems of India and of Bangladesh. His themes were as varied as his forms, including love, politics, humor, appreciation for the beauty of nature, and a profound sympathy for the perspectives of women, children, and the poor. The Best of Tagore offers a representative overview of his work, including his best-known novel, The Home and the World, and his best-known play, Red Oleanders.

Everyman's Library pursues the highest production standards, printing on acid-free paper, with full-cloth cases with two-color foil stamping, decorative endpapers, silk ribbon markers, European-style half-round spines, and a full-color illustrated jacket. Everyman's Library Classics
include an introduction, a select bibliography, and a chronology of the author's life and times.
Read more
Close