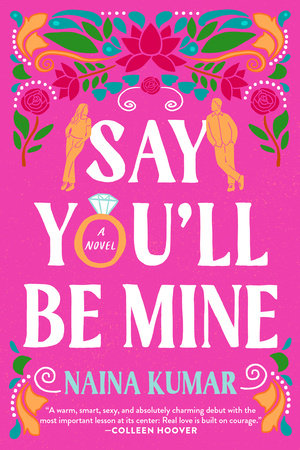 Read an Excerpt
Say You'll Be Mine
A Novel
Naina Kumar
Paperback
Ebook
Audiobook Download
January 16, 2024 | ISBN 9780593823002
About the Book
"I couldn't put down this page-turner. . . . The new When Harry Met Sally . . . a warm, smart, sexy, and absolutely charming debut."—Colleen Hoover

A teacher with big dreams joins forces with a no-nonsense engineer to survive an ex's wedding and escape matchmaking pressure from their Indian families. Their plan? Faking an engagement, of course.

Meghna Raman defied her parents' wishes and followed her life's passion, becoming a theater teacher and aspiring playwright. When she discovers that her beloved writing partner, best friend, and secret crush, Seth, is engaged—and not to her—she realizes he's about to become the one-that-got-away. Even worse, he's asked her to be his best man. And worse than that, she's agreed. Determined to try and move on, Meghna agrees to let her parents introduce her to a potential match. Maybe she could marry the engineer that her parents still wish she'd become.

Grumpy engineer Karthik Murthy has seen enough of his parents' marriage to know it's not for him. He agreed to his mother's matchmaking attempts to make her happy, never dreaming he would meet someone as vibrant as Meghna. Though he can't offer her something real, a fake engagement could help Meghna soothe the sting of planning Seth's wedding festivities and Karthik avoid the absurd number of set-ups his mother has planned for him.

As the two find common ground, grow protective of each other's hearts, and start to fall for the traits they originally thought they hated, an undeniable chemistry emerges. But soon, their expectations and insecurities threaten something that's become a lot more real than they'd planned.

Say You'll Be Mine is a delightful trip back to the heyday of swoony romantic comedies from the nineties, but with a deep and poignant look at the effects of culture and family in our most intimate relationships.
Read more
Close