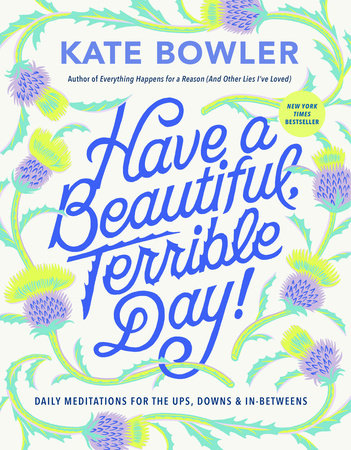 Read an Excerpt
Have a Beautiful, Terrible Day!
Daily Meditations for the Ups, Downs & In-Betweens
Kate Bowler
About the Book
Witty, honest, and wise spiritual reflections that invite readers to embrace the bad, not just the good—from the three-time New York Times bestselling author of Everything Happens for a Reason (And Other Lies I've Loved)

Kate Bowler believes that the cultural pressure to be cheerful and optimistic at all times has taken a toll on our faith. But what if we could find better language than forced positivity to express our hopes and our anxieties? 

Have a Beautiful, Terrible Day! is packed with bite-size reflections and action-oriented steps to help you get through the day, be it good, bad, or totally mediocre. This is a devotional for the rest of us—which is to say, the people who don't have magical lives that always work out for the best. As she composed these meditations during a season of chronic pain, Bowler understands how every day can be an obstacle course. She encourages us to develop our capacity to feel the breadth of our experiences. The better we are at identifying our highs and lows, the more resilient we become.

Like modern-day psalms, Bowler's spiritual reflections look for the ways we can expand our capacity for courage, love, and honesty—while discovering divine moments with God. With bonus sections to use during the seasons of Advent and Lent, this is an easy book to read along with other people too. 

If you want to build your daily habit of spiritual attentiveness, this book is here to say: May all your days be lovely. But for those that aren't, have a beautiful, terrible day!
Read more
Close