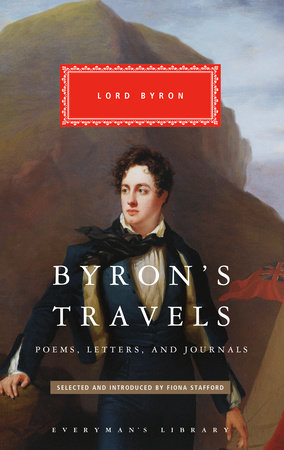 Byron's Travels
Poems, Letters, and Journals
Lord Byron; Selected and Introduced by Fiona Stafford
About the Book
A new hardcover selection of Lord Byron's letters, poems, and journals, tracing his dramatic, scandalous, heroic life and his wide-ranging travels—and timed to the two-hundredth anniversary of his tragic early death

George Gordon, Lord Byron, was one of the leading figures of British Romanticism. The Byronic hero he gave his name to—the charming, dashing, rebellious outsider—remains a powerful literary archetype. Byron was known for his unconventional character and his extravagant and flamboyant lifestyle: he had numerous scandalous love affairs, including with his half-sister Augusta Leigh. Lady Caroline Lamb, one of his lovers, famously described him as "mad, bad and dangerous to know."

His letters and journals were originally published in two volumes; this new one-volume selection includes poems and provides a vivid overview of his dramatic life arranged to reflect his travels through Scotland, Italy, Spain, Turkey, Albania, Switzerland, and of course Greece, where he died. It contains a new introduction by scholar Fiona Stafford highlighting Byron's enduring significance and the ways in which he was ahead of his time.

Everyman's Library pursues the highest production standards, printing on acid-free paper, with full-cloth cases with two-color foil stamping, decorative endpapers, silk ribbon markers, European-style half-round spines, and a full-color illustrated jacket. Each title includes an introduction, a select bibliography, and a chronology of the author's life and times.
Read more
Close